Group Fitness Classes
Try Our Motivating and Energizing Group Fitness Classes in Newtown Square
Ellis Athletic Center offers more than 50 weekly group fitness classes! That gives you more than 50 opportunities each week to find an activity that you love and that moves you closer to your fitness goals. Our classes are offered at a variety of days and times so you can find something that fits into your busy schedule, whether you prefer to work out first thing in the morning or later in the evening. We cater to call ages and abilities, too, so you can find a class that's right for your fitness level and age. Now there is no excuse not to get in a great workout!
Select From a Great Variety of Classes
You'll find a variety of fitness classes available at Ellis Athletic Center, all included with your membership. Check out one of these classes this week:
Spinning
Zumba
HIIT
Yoga
Les Mills
Pilates
Bootcamp classes
Fitness trails
Triathlon training
And more!
Feel free to try one or try them all and discover a new activity that helps you strengthen, tone, burn calories and get pumped about meeting your next fitness goal.
Learn More About Our Classes or Become a Member Today
If you are already a member of Ellis Athletic Center, you can check out our class schedule and choose the next class that's right for you. If you aren't already a member but want to give our gym in Newtown Square a try, then stop by and pick up a free 3-day trial membership! You can also give us a call or fill out the form on our website to get in touch with our team with any questions you have about our classes or membership. We're looking forward to seeing you in the gym soon!
Check out this video on Les Mills classes which is available now at Ellis Athletic Center!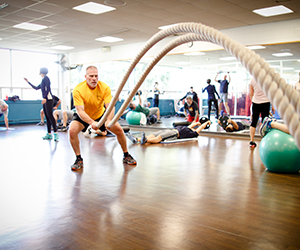 ---